ORP: At the Ceili!
Posted: Wed Jan 01, 2020 2:51 pm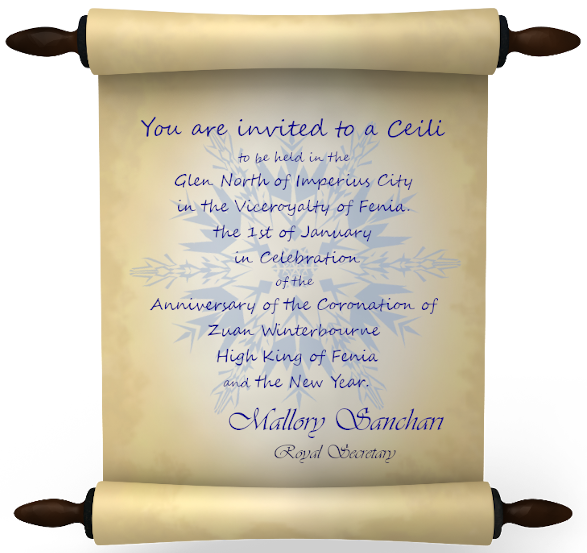 Invitations were sent to all of the Kingdom. The Vardos that weren't occupied were piled with blankets and cushions and the ones that wished brought their occupied ones as they set up the huge campfire. Mele's own vardo was arranged in the circle. The bonfire was set up, massive piles of wood that Ella had assured Mele she would set aflame and keep from burning dancers. She was excited. Proud. A selection of clothing in the true Roma style had been laid out for others to borrow from should they wish to join in the fun of dancing. Some locals had brought their instruments and more stumps and logs were split for creatures who wished to join in the playing to sit upon. Zipp had cleared the snow and a little magic kept the ground warm, and the grass was, just for the night, a lush green, thanks to some fae work. Though she'd had to give up her beloved silver ring to make the trade. Cushions and quilts were scattered about. It was, in the end, all set up, with heavy tables laden with food, the kills from the first hunt of the year were roasting off to the side, for those who liked less cooked foods there were tables of that. Each item was labeled and every creature had meal options. There were barrels of drink, tapped and ready. Everything was ready. And as Mele smoothed her hand down the
dress
she wore. It was a bit revealing and she'd recently had a blow to her confidence. But Fallon, Varann, and Zipporah were coming and she could never feel that bad around them. It would be the first time, she thought, that Fallon and Varann had seen her dance, so she wanted to look her best. She hoped many turned out. She hoped it was an amazing time. But most importantly, she hoped the music that was currently playing was played again.