Moderator: Community Team
Fast cash daily!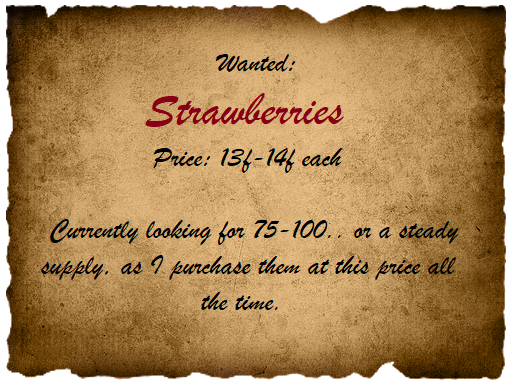 ... -`ღ´- ...
---
Looking to acquire some rope and some hides so that I can put up a few things missing from out market.

Tuv
Thanks to Teide for the banner
---
My apologies if this is not the appropriate forum to relate this too, but I am in need of some goods!


I am in need of:

x1 Longsword
x1 Gem of some sort (I don't understand the differences in colors, if someone could explain if there is one!)
I need to get a new Signature!
---
Each gem represents an element of a warrior (OOC: a particular stat) Placing the gems into a weapon/armor would imbue the item with that power. If you're looking to make your legendary weapon, I would suggest combining a more powerful weapon with the gem rather than just the longsword. Let me know before I leave, and I would be honored to assist where I can in the shop.

Diamonds are for strength
Rubies are for charisma
Sapphires are for intelligence
Aquamarines are for dexterity
Amethysts are for attack
Emeralds are for defense
Family Shadowborne - Retired
---
Nocturne,

This is exactly what I was planning to do. It seems I will be needing a Diamond for my weapon of choice then. What more power weapons exist that I can have the honor of wielding?
I need to get a new Signature!
---
Well, my dear Marshal, if you will allow me to answer on behalf of Nocturne:

If you were to place such a gem in a certain unencrusted weapon of your choosing, then use another of such, or similar, gem and bring them both to a legendary blacksmith... well, the results would indeed be quite legendary.
Banner made by one of my bestest internet friends, Aishe <3

| A Parting Glass
---
Great!

So it seems I am after 2 Diamonds then! Anyone have any!?
I need to get a new Signature!
---
I've diamonds plenty. I do like gems though. They are hard to part with. I'll provide them if you will agree to provide me with any 2 gems in the future.

I realize it would likely be better for you if you could simply purchase them, but in the last number of years I've parted with gems only via trade for another. Something something dragon.
King of Kiene
Shaker of Castles
Order of the Pillow | Sunspear
---
I have acquired a sword that contains a Diamond within it. I just at this point need another diamond.

Sir Dragon,

I understand completely, dragon stuff....

I would purchase it for double the cost of a single if you were willing to part with one.
I need to get a new Signature!
---
Bearing that in mind I might know a place to acquire an overpriced diamond. Once I'm done with my present work I'll look or alternatively I can send you a letter telling you where to go if you are in a hurry.
King of Kiene
Shaker of Castles
Order of the Pillow | Sunspear
---